Tips to Identify Damage to Your Floors
At Flooring Experts, a lot of the work we do relates to restoring floors that have been damaged by unfortunate incidents in homes and businesses.  Whether floors have been damaged by water or fire, we have solutions to either restore or replace them.  But how do you know if your floors have been damaged?  Does damage show up differently depending on the type of flooring you have?  Read on to find out!
When it comes to water damage, here are the signs to look for:
Hardwood Flooring
Cupping is the most common sign of damage, but others may include: crowning, discoloration, dark spots, buckling/detaching from subfloor
Laminate Flooring
Laminate is more durable than hardwood and vinyl but is very easily affected by moisture.  Signs include: cupping, warping, splitting, and mold.
Vinyl Flooring 
While vinyl is definitely more resilient to moisture, it can still become damaged in more extreme circumstances.  Signs to look for include: bulging, discoloration, warping and buckling.
Tile Flooring
Yes, this flooring is often found in bathrooms where there is constant moisture.  However, damage to this type of flooring can occur over time and can be especially bad when moisture gets behind cracks in the grout.  Signs include: loose tiles, discolored or cracked grout, hollow sounds when you tap on it, stains, and musty odor.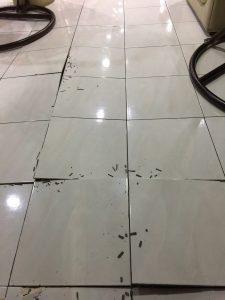 As you can see, there are several similarities but also several differences when it comes to the signs of damage to your floors.  If you are ever unsure, reach out to an expert to take a look for you and help develop a plan of action to fix the issue.  Flooring Experts is always available to answer and questions and address any concerns you have!
Wishing you a safe and happy holiday season!