Thinking of painting your tile floors? Read this!
The pandemic seemed to bring about all kinds of DIY home projects – from fresh paint to whole renovations, there was no shortage of home improvement projects.  One project that seemed to pop up time and time again – painting tile floors!  If you're thinking of getting on this trendy train, read on to see what the process entails and why proper preparation is key!
Location, Location, Location! 
When choosing an area to paint, you want to make sure you are not selecting a high-traffic or moisture-prone area.  Painting tiles in areas like this will result in your hard work wearing away and bubbling.  So make sure to pick a place that's dry and isn't walked on throughout the day.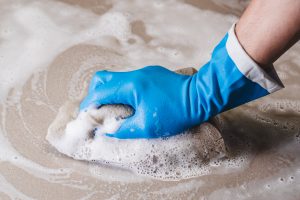 Squeaky Clean!
Before you do ANYTHING, you must clean the tiles THOROUGHLY!  Use a trisodium phosphate cleaner (TSP).  This type of cleaner cuts through any and all grime on your tiles.  Make sure you wear proper protection when using this cleaner – skin covered, good ventilation and gloves.  Combine this powder cleaner with a gallon of water and use scrub brushes and rags.  When done, wipe down with towels and allow to completely air dry.
Sand!
Using an orbital sander, remove any existing finishes on your tile.  Clean off all dust.
Prime!
Make sure to prime your tiles using a high-adhesion primer.  This is a crucial step – don't skip it!  Use a roller to apply to all tiles and allow it to dry completely.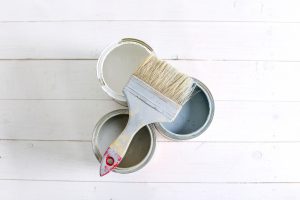 And Now We Paint!
Here comes the fun part – painting!  Use Latex, acrylic latex and enamel paints and paint two to three coats. If you want to do a stenciled pattern, it's best to paint one whole layer of paint, letting it dry, and then doing your stencil on top of that.  
As you can see, this fun DIY project will take some preparation, but it's definitely a fun and low-cost way to update a floor in your home!  Happy Painting!