5 Tips to Help Your Floors Survive Winter!
The DC area saw it's first major snow of 2022 yesterday.  Snow days are fun and all, but the mess it creates in our homes is…well….not fun.  Kids coming in from sledding, pets tracking in muddy snow, temperature changes, and all of us bringing salt in from outside puts a lot of stress on our floors.  Here are 5 tips to keep your floors looking good!

Floor Mats! 
Placing floor mats inside and outside of every entry to your home will help catch dirt and debris from entering your house!

Don't Forget Fido!
Make sure to keep a towel near the door so you can wipe your pup's feet before coming inside.  We have also used this brilliant invention on especially muddy days! 
Keep Your Tools Within Reach!
Letting all of the gunk sit in your floors can cause damage,  Make sure cleaning supplies are easily accessible for quick and easy clean-ups!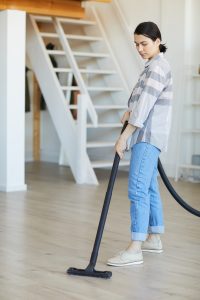 Viva La Vacuum! 
Regular (daily) vacuuming helps keep your floors looking beautiful in winter! Also, consider having your carpets cleaned yearly by a professional. 
Keep it Toasty! 
Making sure your home is evenly heated as well as using a humidifier to keep your floors from constantly expanding and retracting will help keep them in good shape! 
As you can see, there are a lot of steps you can take to keep your hard and soft floors looking good all year long!  
Happy Winter!  And Happy 2022!