2021 Flooring Trends!
Flooring has come a long way from shag carpeting and parquet floors!  From tiles to mid-tone woods, there are a ton of gorgeous options to choose from!
Post originally appeared on ApartmentTherapy.com.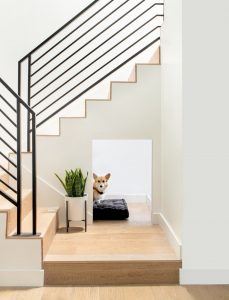 Listen, life happens. If you have pets or kids or just a heavy-footed roommate, then you know no floor is safe from destruction. However, engineered hardwood comes pretty close. It's the best of both worlds: It has a top layer of hardwood (which gives it its beauty), followed by layers of plywood in alternating directions (which give it its durability). In a world where rooms now do double or even triple duty, something that can hold up to whatever life throws at it is appealing to a growing number of homeowners. 
"You can expect to see engineered hardwood floors still going strong in 2021 and beyond," says designer Linda Hayslett of L.H. Designs. "The options have grown for not only quality but also for types of finishes, colors, and materials; it's here to stay."
Designer Breegan Jane agrees, noting that smarter materials open up even more options for your home. "New technology and engineering in wood flooring make it a very feasible option in bathrooms or kitchens, where the moisture components are also being considered in the design layout," she says.
Terracotta tiles
There's a reason why there are whole Instagram accounts and hashtags dedicated to swooning over terracotta tile flooring. It's just that pretty. Maybe the eye-catching style you saw on your last trip to Italy (fun fact: terracotta literally means "baked earth" in Italian) doesn't suit your modern farmhouse aesthetic, but it's 2021, so there plenty of styles out there now will. 
"We adore using terracotta tiles in our projects," says designer Julia Miller. "They come in so many color variations and the price point isn't terrible, so they're a great option for well-loved spaces like entryways, mudrooms, and even kitchens. I expect to see a lot more of them in 2021."
"Belgian reproduction tiles are some of my favorites to use in designs," adds designer Zoe Feldman. "They're made from unglazed terracotta and they bring such a European flair to any space."
Floor framing 
There are a lot of ways to add architectural interest to even the most builder basic of homes, from faux wooden beams and picture frame molding to — you guessed it! — flooring. By simply laying out your flooring in a different pattern or direction, you can change the entire feel of your space.
Case in point? Floor framing, which, according to Jane, is going to be big in 2021. "In the coming year, I think we will see more combination floor framing that builds patterns around room designs," she explains. "We will see designers create extra borders around tubs, for example, and add detailing around shapes where design is warranted, allowing flooring to become an understated guide for the actual layout of the room."
Concrete
Concrete has gotten a bad rep. Once considered cold, damp, and unappealing, this industrial building material was banished to the floors of our garages for far too long. Well, consider 2021 concrete's long-awaited reckoning. Thanks to nuanced applications, upgraded materials, and adventurous designers, concrete flooring is something you may actually be considering adding to your home six months from now. 
Don't just take my word for it: Designer Max Humphrey, author of the forthcoming book "Modern Americana," thinks so, too. "Since the start of the pandemic, I've gotten weekly emails from potential clients that want to remodel their basement to be a more usable space like a home office," explains Humphrey. "Many basements already have concrete flooring and instead of spending the money to add wood floors, tile, or carpet, I've leaned into the material and had it cleaned up and polished. I generally opt for a low-sheen so it doesn't look too much like a garage floor, but you can even stain concrete so it has a more cohesive look." Just be sure to finish off your concrete application with a rug to tie the scene together; it'll also give your feet somewhere soft and warm to land.
Mid-tone woods
It seems as though 2021 will see people moving somewhat away from the light wood of the past few years and into a medium, Goldilocks shade of wood. 
"We've seen the uptick in light, white oak European wood floors for years," says designer Whittney Parkinson. "Come 2021, I foresee this shifting back towards a slightly darker, mid-tone of wood that lands us somewhere right in the middle."
The best thing about this shade is just how versatile it is. Depending on the home you put it in and the decor you surround it with, it could read rustic and farmhouse-y just as easily as it could read timeless and traditional. 
Laid patterns with tile
Pattern is "in" for flooring in 2021 but just not in the way you'd necessarily expect it to be. Instead of the pattern coming from the tiles themselves (like hand-painted Spanish tiles or a decorative Moroccan version), pattern is moving into how the tiles are laid out. 
The result? A modern take on the same sort of high-impact look — and sometimes for less money. "I love the idea of pattern tile that's not patterned tile," says Humphrey. "We've been hit over the head with graphic encaustic floor tile for years now. That stuff is great, but you can get a graphic look using really inexpensive tile installed in creative ways. In a recent remodel, I had a black-and-white penny tile installed in a stripe pattern. It's a lot of look for not a lot of money."
Parkinson agrees, noting her preference for using bold tile patterns in workhorse spaces like a kitchen, mudroom, or laundry room. "In the coming year, I see the continued use of tile patterns in utilitarian spaces that have the capacity to pull it off. Thinking outside the typical layout of a tile can elevate a space immediately."